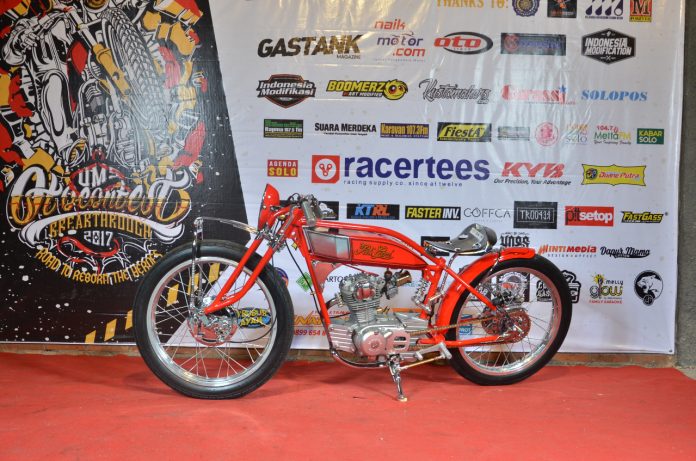 NaikMotor – UMS Otocontest 2017 memberikan angin segar pada perkembangan dunia modifikasi di Solo khususnya dan Jawa Tengah pada skala yang lebih luas dengan konseo Road to Reborn The Heroes. Berikut daftar pemenang UMS Otocontest 2017.
Sebanyak 149 kontestan unjuk karya dalam 12 kelas yakni, Custom Modify, Retro/Classic Under 90's Modify, Retro Advance, Retro Kustom Open, Racing Style Open, Street Racing Open, Racing Mothai/Thailook Style, Pure Mothai/Thailook Style, Fashion Daily, Sticker/Decal, Airbrush Open, dan Extreme/Free For All.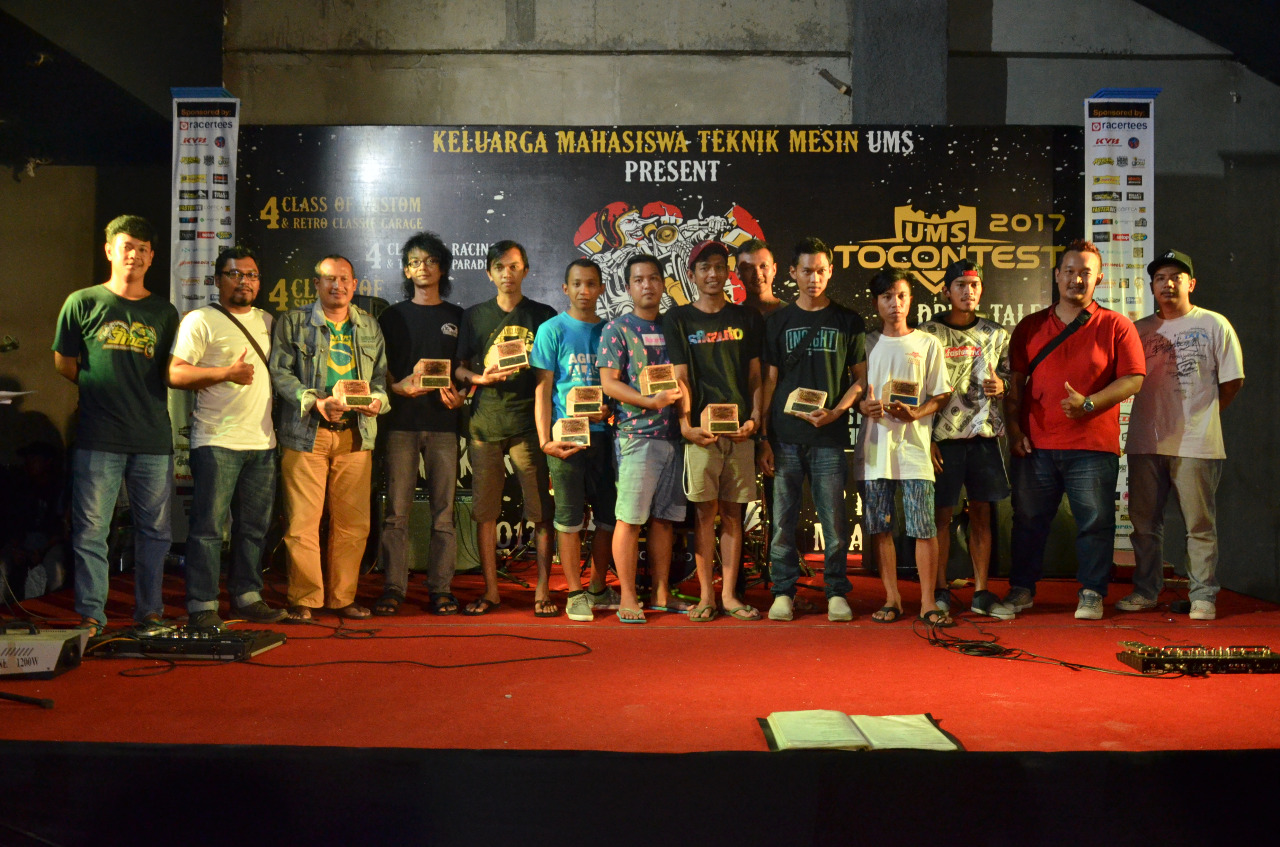 Para juri yang melakukan penilaian juga didaulat dari media serta salah satu tokoh dunia custom culture, Lulut Wahyudi dari Kustomfest. Selain itu UMS Otocontest 2017 juga menyajikan talkshow membahas seputar trend dunia modifikasi. Dari daftar pemenang UMS Otocontest 2017, terpilih sebagai The King UMS Otocontest 2017 adalah Pati Geni, motor bergaya boardtarcker dari Salatiga.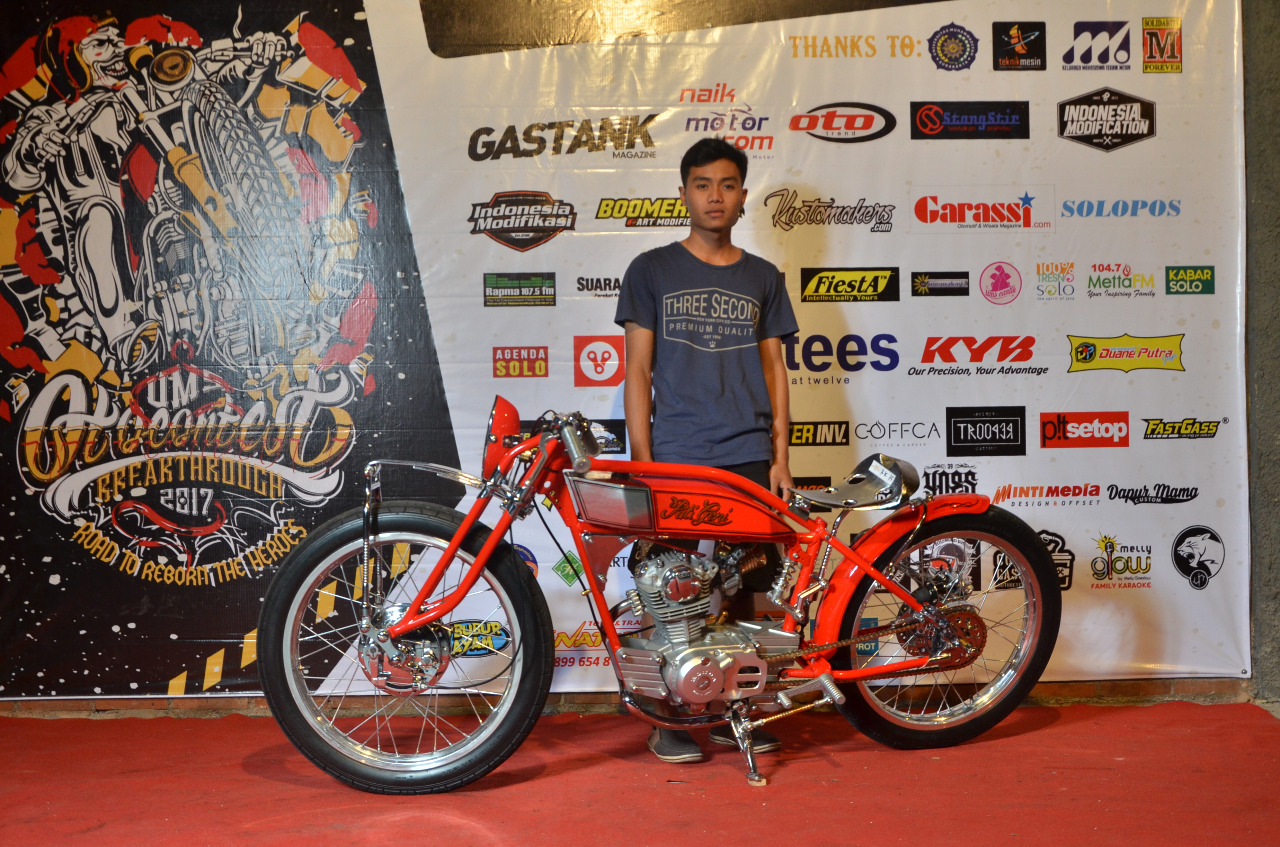 Acara ini mendapat perhatian dari para sponsor dan media, seperti : Racertees, KYB, HUT UMS, Nimco, Buls syndct, Yoes Brushero, Duane Putra, Coffca, Faster, Trooper, Sae Concept, Intimedia, Dapur Mama Custom, Coffee Gasoline, Melly Glow, Pratiwi Makmur, KTRL, Pitsetop, Fastgass, Aneka Motor, D'Bubur Ayam, Diton cat semprot premium
Natura, Kiky, Hartono Mall, The Rojomolo Custom, Ragil, Surakarta Kustom Riding, Julia Panther. Berikut daftar pemenang UMS Otocontest 2017. (Arif/nm)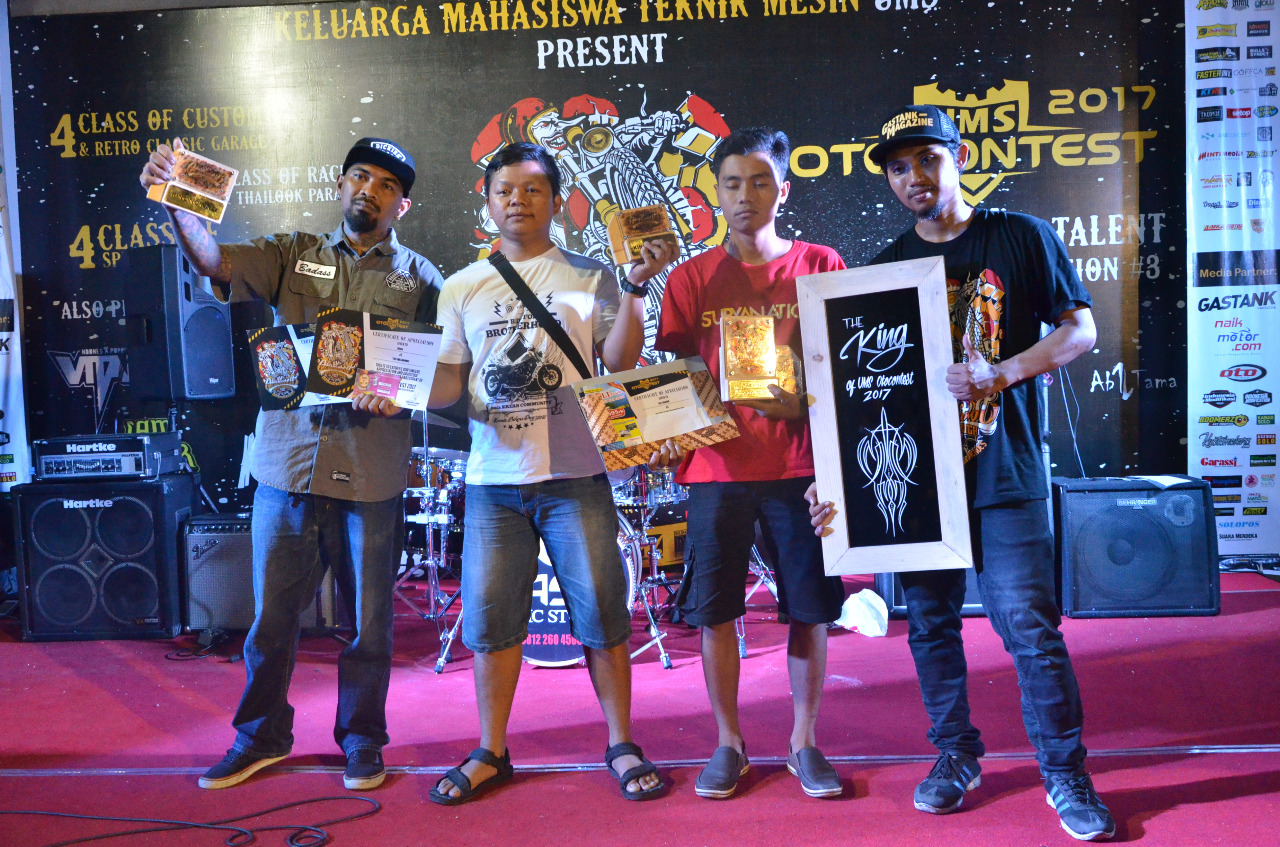 CUSTOM MODIFY
1 4 NOUVO 2008 AB5164LT DHIKA DHIKA SOLO
2 28 VARIO 2011 H6106GC MUHAMMAD SYAMSUL ARIFIN WEZT.@RT SALATIGA
3 48 CBR 150CC 2016 G3340FV JAYUS ADI SAPUTRA ANDRI EVO KARANG TENGAH, KASEPUHAN, BATANG
RETRO/CLASSIC UNDER 90S MODIFY
1 70 CB&1973 AD 5924 GS ANDRE MAULANA ANDRE HAHO SRAGEN
2 49 SUZUKI FR 1974 E 5815 H FAHMI FAHMI CIANJUR
3 73 CB 1987 AD 4227 FE SENNA BAYU AJI RHAMAWHAN REKSATAMA SRAGEN
4 56 CG 1982 AD 5076 ZI PRASETYO TABAH LAS VEGAS GRANGE BOYOLALI
5 63 YAMAHA V 80 , 1985 H3410 AB AVADEO YURIST BAYU SOLO
RETRO ADVANCE
1 140 NINJA 2013 B 3106 KRL HENDRA PAP AND MOM PAP AND MOM SEMARANG
2 93 TIGER 2003 AB4358MF SIGIT W BLACKSMITH CUSTOM YOGYAKARTA
3 108 ASTREA GRAND 1996 K 3781 WA ANGGI VIDIAWAN ANGGI VIDIAWAN PATI
4 5 HONDA C86 1983 AD 2506 DC MUHAMMAD RIZKI SETIAWAN "MUHAMMAD RIZKI SETIAWAN
MARGA BATIN" LAMPUNG TIMUR
5 88 C 70 1981 AA 5358 F MUHAMMAD AZKA MAMBU MODIF WONOSOBO
RETRO KUSTOM OPEN
1 75 BROTEKER – EKO SUGIYONO BNJ.WORKSHOP SALATIGA
2 30 NINJA 250 2009 AB 2817 RZ HAIKAL BAGAS KARA WEZT.@RT SALATIGA
3 138 KAWASAKI ER 6 2012 K 6935 MO TITO PAP AND MOM PAP AND MOM SEMARANG
4 100 RX KING 1978 AA 4579 DB BAGIYO RZ MODIFIED MAGELANG
5 21 XS 650 1972 – MUHAMMAD IQBAL FLYLOW.MC KWARASAN
RACING STYLE
1 103 SUPRA X 125 TAHUN 2009 AA 5285 SK BAYU PRANOTO AREX. KARTASURA.SOLO MAGELANG
2 106 BEAT TAHUN 2008 AD 6982 CS ARY AREX. KARTASURA.SOLO KARTASURA
3 68 HONDA GL PRO / TAHUN 1998 AD 3241 PG CAESAR ADHI ASSALAM ADI ATMA WONOGIRI
4 94 NUVO 2002 AA 4204 PE AAN MAMBU MODIF WONOSOBO
5 71 JUPITER MX/2011 AD 6936 ZU ADIN MEI SURYA ADIN MEI SURYA KARTASURA
STREET RACING OPEN
1 125 NINJA 2010 B 3190 TRB YONI GALIH PITSETOP WORK MAGETAN
2 78 NINJA 2012 AD 5609 QF SYAFIQ ABRORI JUNIOR SOLO PATI
3 137 NINJA 2005 AD 6687 RO WAHYU O2DSIGN SUKOHARJO
4 141 BEAT 2013 K 5301 KG HERU PRASETYA MFC MODIFIKASI PATI
5 101 SATRIA 2004 AA 5265 JC BAGIYO RZ MODIFIED MAGELANG
RACING MOTHAI/THAILOOK
1 116 SONIC 2001 AD 4269 FM AGUSTINUS BONDAN HOKKY MODIFI SALATIGA
2 134 NINJA 2012 W 6866 MP ALFANANI ROIS JPM GERSIK
3 52 NINJA 2003 B 6444 KF ADITYA RARA RARA MODIFIC BOYOLALI BOYOLALI
4 66 SKY WAFE AD 3398 QT HARRY COOLWEST CUSTOM SURAKARTA
5 67 NINJA 2007 AD 6369 WH MAYA YUL COOLWEST CUSTOM SURAKARTA
PURE MOTHAI/THAILOOK
1 86 HONDA PCX 150 TAHUN 2017 AA 5084 LV RIZAL ERDINSYAH JOGJA MONEL CENTER JALAN RINGROAD UTARA NO 273 BANTUL
2 20 SONIC FS 125 2001 AB 6916 YC FINDI ALDIANO S2BM MODIFIED SALATIGA
3 19 NUVO 2013 AD 3033 YS KRISTANTO SADEWA KUNTET PAINT DAN AIRBRUSH SOLO BARU
4 83 HONDA KIRANA 2003 AD 3675 CU PUTUT PUMA 26 SUKOHARJO
5 123 NUVO 2006 AD 2293 KL YONGKY QCUTTE SEMARANG
FASHION DAILY OPEN
1 124 VARIO / 2006 H 6324 QB CECE GUFFY MODIFIED / SALATIGA SALATIGA
2 107 MIO FINO 2005 K 2073 KA KIKI ANDIKA Q2 MODIFICATION PATI
3 81 SATRIA 2005 AD 6186 TH GERRY CRC KARANGANYAR
4 64 CB100 1978 AD5760D LONDHO /NORWINDA DWI SAPUTRA LONDHOBESITUA WINDAN MAKAMHAJI KARTASURA
5 69 KAWASAKI NINJA RR SPESIAL EDITION 2011 AD 2553 NT BAYU SURYA IRAWAN BYX23 MODIFY BYX 23 MODIFICATION CONCEPT WONOGIRI WONOGIRI
STIKER/DECAL
1 80 SCOOPY 2017 AD 6912 BDE MUHAMMAD TRI WIDODO SOLO SRAGEN
2 91 XEON 2011 AA 2113 TF ANGGA MAMBU MODIF WONOSOBO
3 121 SCOPPY 2016 AD 4683 AEC DUWEK RCS RAGIL CUTTING STICKER KLATEN
4 127 SUPRA 2008 H 2273 PZ ROY ANGGA S BAMZ TRALIS X REMOT SEMARANG
5 112 CB 100 / 1973 AD 4983 A NDALU ANGGAR PRASETYO (GEMBEL DOLLAR) GEMBEL DOLLAR / ABYASA STICKART SUKOHARJO
AIRBRUSH OPEN
1 87 BLADE 2014 AA 5843 WP KUWAT ROHMAT MAMBU MODIF WONOSOBO
2 22 MIO, 2008 B 6042 TOV MUHAMMAD HABIB AMBAR RUJITO WONOGIRI
3 95 NUVO 2007 AB 4052 EJ WULAN MAMBU MODIF WONOSOBO
4 128 VARIO CW 2012 K 3154 VV MUJIB 'IRFAN MUJIB IRFAN JALAN SAMBIROTO RAYA NO. 60
5 92 REVO 2007 AB 6337BA GUN MAMBU MODIF WONOSOBO
EXTREME
1 2 THUNDER 250 ANEKA MOTOR ANEKA MONTOR JL. YOUDARSO NO 174
2 139 KAWASAKI ER 6 2012 K 6935 MO TITO PAP AND MOM PAP AND MOM SEMARANG
3 26 MIO J, TAHUN 2014 AD6136IA VINCENTIUS IVAN C.B ALM HANDOYO PERUM CLOLO INDAH RT04 RW22
4 23 GL PRO, 2000 B 3207 AJ AMBAR RUJITO AMBAR RUJITO WONOGIRI
5 96 VARIO 2011 AA 4626 YP BONI MAMBU MODIF WONOSOBO
THE BEST REALIST AIRBRUSH 87 BLADE 2014 AA 5843 WP KUWAT ROHMAT MAMBU MODIF WONOSOBO
THE BEST GRAPHIC AIRBRUSH 95 NUVO 2007 AB 4052 EJ WULAN MAMBU MODIF WONOSOBO
THE BEST ANIMATION AIRBRUSH 76 MEGAPRO 2001 K 5031 MK SYAFIQ ABRORI DK TENGAHAN SUKOLILO PATI PATI
THE BEST HYDROGRAPHIC MIX AIRBRUSH 74 VARIO 125 THE 2014 AD 2425 MO SULTAN ABRAR SOLO SUKOHARJO
THE BEST PARTICLE PAINT 95 NUVO 2007 AB 4052 EJ WULAN MAMBU MODIF WONOSOBO
THE BEST KUSTOM HANDPAINT 110 RXKING 2007 BG 3421 JG YOGA YUDANTO YOGAYOIQ JOYORAHARJAN SURAKARTA
THE BEST PINSTRIP BODY ART 75 BROTEKER EKO SUGIONO BNJ.WORKSHOP SALATIGA
THE BEST STREET FIGHTER MODIFY 26 MIO J, TAHUN 2014 AD6136IA VINCENTIUS IVAN C.B EXTREME / FFA PERUM CLOLO INDAH RT04 RW22
THE BEST SPORT FAIRING MODIFY 48 CBR 150CC/2016 G 3340 FV JAYUS ADI SAPUTRA CUSTOM MODIFY KARANG TENGAH 007/001 KASEPUHAN BATANG
THE BEST TRACKER 140 NINJA 2013 B 3106 KRL HENDRA PAP AND MOM PAP AND MOM SEMARANG
THE BEST CAFE RACER 30 NINJA 250 2009 AB 2817 RZ HAIKAL BAGAS KARA WEZT.@RT SALATIGA
THE BEST CHOOPY CUB 108 ASTREA GRAND 1996 K 3781 WA ANGGI VIDIAWAN ANGGI VIDIAWAN PATI
THE BEST OLDSCHOOL 21 XS 650 1972 MUHAMMAD IQBAL FLYLOW.MC , JL. RAYA SOLO-BAKI KM.1 01/05 KWARASAN JL. TANJUNGANOM 13 01/05 KWARASAN
THE BEST SCRAMBLER 93 TIGER 2003 AB4358MF SIGIT W BLACKSMITH CUSTOM, YOGYAKARTA
THE BEST BOARDTRACKER 75 BROTEKER EKO SUGIONO BNJ.WORKSHOP SALATIGA
THE BEST CHOPPER/BOBBER 27 YAMAHA SCORPIO 2005 AD 6305 KO SUKMA DERRI KURNIAWAN SUKMA DERRI KURNIAWAN WONOGIRI
THE BEST ENGINE LOOK 139 KAWASAKI ER 6 2012 K 6935 MO TITO PAP AND MOM PAP AND MOM SEMARANG
THE BEST CUSTOM BODY WORK 23 GL PRO, 2000 B 3207 AJ AMBAR RUJITO AMBAR RUJITO WONOGIRI
THE BEST CUSTOM OEM BODY WORK 28 VARIO 2011 H 6106 GC MUH SYAMSUL ARIFIN WEZT.@RT SALATIGA
THE BEST CUSTOM UNDERCARRIAGE 2 THUNDER 250 ANEKA MONTOR ANEKA MONTOR JL. YOUDARSO NO 174
THE BEST DRESS UP UNDERCARRIAGE 48 CBR 150CC/2016 G 3340 FV JAYUS ADI SAPUTRA ANDRY EVO KARANG TENGAH 007/001 KASEPUHAN BATANG
THE BEST AFTERMARKET ACCESSORIES OF THAILOOK 86 HONDA PCX 150 TAHUN 2017 AA 5084 LV RIZAL ERDINSYAH JOGJA MONEL CENTER BANTUL
THE BEST AFTERMARKET ACCESSORIES OF FASHION 131 RX KING TAHUN 1998 AD 3126 PG HERU WARSITO HERU SUKOHARJO
THE BEST AFTERMARKET ACCESSORIES OF RACING 116 SONIC 2001 AD 4269 FM AGUSTINUS BONDAN HOKKY MODIFI SALATIGA
THE BEST KUSTOM ACCESSORIES 104 90 Z AB 3156 TS SIGIT WIDODO BLACK SMITH SLEMAN
THE BEST NOVICE THAILOOK STYLE LOCAL AD 90 YAMAHA NOUVO 2005 AD-5843-Z RUBEN EKA MULYA NOVEMBER PAINT KARANGANYAR
THE BEST NOVICE FASHION DAILY LOCAL AD 60 YAMAHA AEROX 155 , 2017 AD 4012 IS AVADEO YURIST BAYU SOLO
THE BEST NOVICE STREET RACING LOCAL AD 130 SCORPIO 2009 HD 5965 AGD ANGGA DWI P PUTRA SIMPATI BOYOLALI
THE BEST NOVICE MATIC/CUB THAILOOK STYLE OPEN 84 NUVO 2005 H 2079 MH MUHAMMAD AZHAR HM SPEED SHOP BOYOLALI
THE BEST NOVICE SPORT THAILOOK STYLE OPEN 7 NINJA 2005 AD 6410 WF PEPENK TEMAN MODIF COLOMADU
THE BEST NOVICE FASHION DAILY OPEN 36 CB125 TAHUN 1977 AE 3003 YB STEVANY FEBRIANA VHANY PACITAN
THE BEST NOVICE STREET RACING OPEN 114 NINJA 2011 B 3470 FCN TRIYANTO OKAGE PAINT BOYOLALI
THE BEST NOVICE KUSTOM MODIFY OPEN 32 SCORPIO 2006 AB-5194-GW YUDA LUKITANTO WARTO NGRAMBE NGAWI
THE BEST KTRL CHAPTER SOLO'S PICK 19 NUVO 2013 AD 3033 YS KRISTANTO SADEWA KUNTET PAINT DAN AIRBRUSH SOLO BARU
THE BEST KTRL CHAPTER YOGYAKARTA'S PICK 84 NUVO 2005 H 2079 MH MUHAMMAD AZHAR HM SPEED SHOP BOYOLALI
THE BEST KTRL CHAPTER SEMARANG'S PICK 134 NINJA 2012 W 6866 MP ALFANANI ROIS JPM GRESIK
THE BEST RACERTEES'S PICK 116 SONIC 2001 AD 4269 FM AGUSTINUS BONDAN HOKKY MODIFI SALATIGA
THE BEST DUANE PUTRA'S PICK 124 VARIO / 2006 H 6324 QB CECE GUFFY MODIFIED SALATIGA
THE BEST FASTER'S PICK 124 VARIO / 2006 H 6324 QB CECE GUFFY MODIFIED SALATIGA
THE BEST TROOPER'S PICK
THE BEST KAYABA'S PICK 93 TIGER 2003 AB4358MF SIGIT W BLACKSMITH CUSTOM YOGYAKARTA
THE BEST COFFCA'S PICK 51 RX K 1982 AE 2176 RD FAHMI FAHMI CIANJUR CIREBON
THE BEST GASTANK MAGAZINE PICK 140 NINJA 2013 B 3106 KRL HENDRA PAP AND MOM PAP AND MOM SEMARANG
THE BEST GOS RIDER GARAGE'S PICK MEGA PRO
THE BEST 69NERAKATAU PICK AB110 RX KING
THE BEST 59TH UMS PICK 135 TIGER 2009 AA 5637 AZ BONI P MAMBU MODIF WONOSOBO
THE MOST TEAM/CLUB CONTESTANT MAMBU MOBIF
THE MOST PEOPLE CHOICE 21 XS 650 1972 MUHAMMAD IQBAL JL. TANJUNGANOM 13 01/05 KWARASAN
THE MOST AIRBRUSHER'S PICK 22 MIO, 2008 B 6042 TOV MUHAMMAD HABIB AMBAR RUJITO WONOGIRI
1ST RUNNER UP AIRBRUSHER'S PICK 92 REVO 2007 AB 6337BA GUN MAMBU MODIF WONOSOBO
2ND RUNNER UP AIRBRUSHER'S PICK 87 BLADE 2014 AA 5843 WP KUWAT ROHMAT MAMBU MODIF WONOSOBO
THE MOST BUILDER'S PICK 75 BROTEKER EKO SUGIONO BNJ.WORKSHOP SALATIGA
1ST RUNNER UP BUILDER'S PICK 85 GL 200 1997 R 3225 FD IBRAHIM MAMBU MODIF WONOSOBO
THE BEST KUSTOMFEST PICK 75 BROTEKER EKO SUGIONO BNJ.WORKSHOP SALATIGA
2ND RUNNER UP BUILDER'S PICK 140 NINJA 2013 B 3106 KRL HENDRA PAP AND MOM PAP AND MOM SEMARANG
THE HOTTEST RACING & THAILOOK PARADISE 116 SONIC 2001 AD 4269 FM AGUSTINUS BONDAN HOKKY MODIFI SALATIGA
THE HOTTEST CUSTOM & RETRO CLASSIC GARAGE 75 BROTEKER EKO SUGIONO BNJ.WORKSHOP SALATIGA
KING NOMINEE 2 THUNDER 250 ANEKA MONTOR ANEKA MONTOR JL. YOUDARSO NO 174
KING NOMINEE 4 NOUVO 2008 AB5164LT DHIKA DHIKA SOLO
THE KING UMS OTOCONTEST 2017 75 BROTEKER EKO SUGIONO BNJ.WORKSHOP SALATIGA